Los dos cursos de AP Seminar y AP Research culminaron de manera exitosa sus presentaciones. Los estudiantes de AP Research diseñaron y llevaron a cabo sus propias investigaciones sobre un tema de su elección, mientras que los estudiantes de AP Seminar tuvieron la oportunidad de planificar y presentar sus Individual Multimedia Presentations (IMP) sobre un tema específico relacionado con el deporte.  
AP Research
All AP Research students designed, implemented, and carried out their own research inquiries about a topic of their choice.  In this course students not only deal with analysing sources within their Literature Review, but also have the methodological challenge of producing their own sets of data.  Students produced Academic Papers where they presented their Literature Review, Methodology, Results, Analysis, and Future Directions, and then presented these findings in the POD (Presentation and Oral Defense).  The PODs included panel members from various departments in the school, including special guests and 'Expert Advisors' who asked the students their 'oral defense' questions at the end of each presentation.  Students demonstrated impressive college-level critical thinking, academic discourse, and creative and lateral thinking, producing high quality presentations overall.    
Sorry, there was a YouTube error.
AP Seminar
This year the AP Seminar students had the opportunity to plan and present their Individual Multimedia Presentations (IMP) about their chosen research topic related to the overarching theme of 'sport'.  Students had taken part in a thorough research process surrounding their topic and formulated either a positions-based or solution-based argument that explored multiple perspectives.  The IMP was an extension of their research process where students presented their major findings, evidence, and conclusions.  The quality and caliber of the presentations were exemplary and impressive; students demonstrated their sophisticated public speaking skills and advanced critical thinking.
Sorry, there was a YouTube error.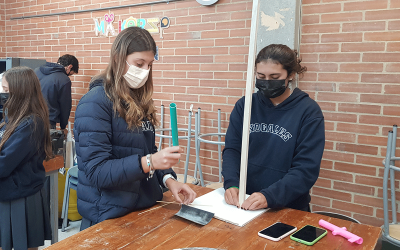 Los proyectos interdisciplinarios entre materias enriquecen la calidad de las clases que tienen nuestros estudiantes. Este es el caso de 9°, quienes desde las clases de Física, Tecnología y gracias a una idea que tuvo Carlos Santacruz, director de Tecnología quien puso a las áreas en contacto y le dieron vida al proyecto "Lanzador de proyectiles". Fernando Becerra, profesor de Física, buscaba explicar el movimiento parabólico en su clase y, para esto, con la ayuda de Fabián Padilla, Fernando Guevara y Simon Trembath, del Departamento de Informática y Tecnología, logró que sus estudiantes crearan bocetos y construyeran estos lanzadores en el Makerspace.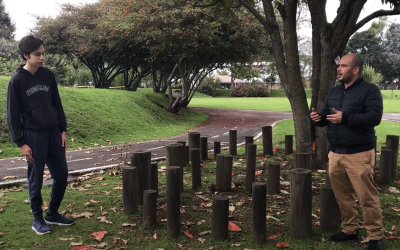 El Colegio Los Nogales tiene las puertas abiertas para estudiantes que llegan a vivir a nuestro país de otros lugares del mundo. Uno de ellos es Nicolas Simões, es estudiante de 9°, que lleva 4 años en el Colegio y viene desde Río de Janeiro, Brasil.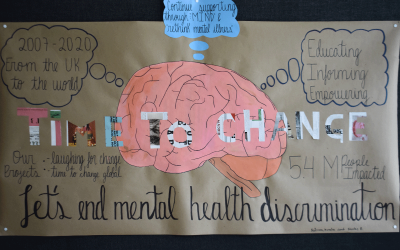 This semester the English and Social Studies Departments collaborated to offer Global Perspectives, an interdisciplinary elective course for tenth and eleventh graders. We offered three sections of the course taught by an English teacher and a Social Studies teacher. We had 29 students working on topics about identity, diversity, discrimination, conflict, and actions to understand social change and social order with a focus on socio-cultural issues in Colombia and in the world.