We learn to be, serve and transform
Colombian school with international vision
Private PK-12 bilingual school

Third Language (French or Portuguese)

Round Square School

Advanced Placement Program – College Board

Accredited by the Council of International Schools and the New England Association of Schools and Colleges

Native Speaker Teacher Program
Value Proposition:
Excellence with a purpose
Takes care of its community

Develops the whole person

Has an active commitment to Colombia

Has a progressive vision

Is a community of continuous learning

Provides an environment conducive to learning

Is aimed at excellence in all its different dimensions

Values diversity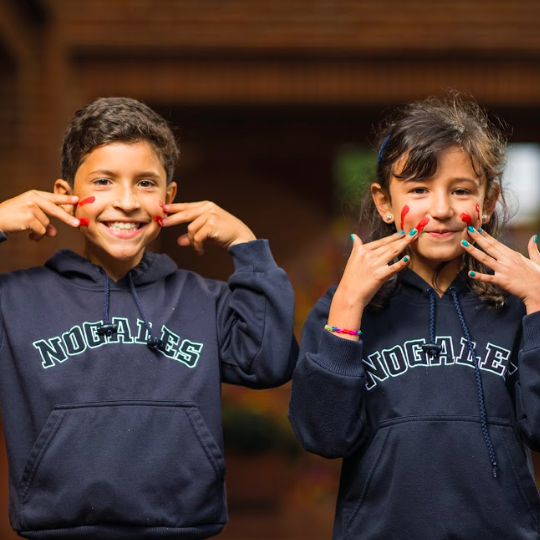 To educate holistic persons, global citizens, and ethical leaders, with a vocation for service and a commitment to Colombia.
Our aim is to solidify and share our educational model and support a Colegio Los Nogales community that is diverse, cohesive, and active, one that contributes to improving education and society through innovation and stewardship.
The school was founded based on nine principles that guide the vision and purpose of our educational model:
A Non-Profit school
An Institution That Contributes to Build a Better Society
Education in Values
A Comprehensive Education Based on Excellence
A School that Values and Fosters Diversity
Global Citizens Committed to Colombia
A Socially Diverse Community Built on Meritocracy
A School with the Best Teachers
Sound Government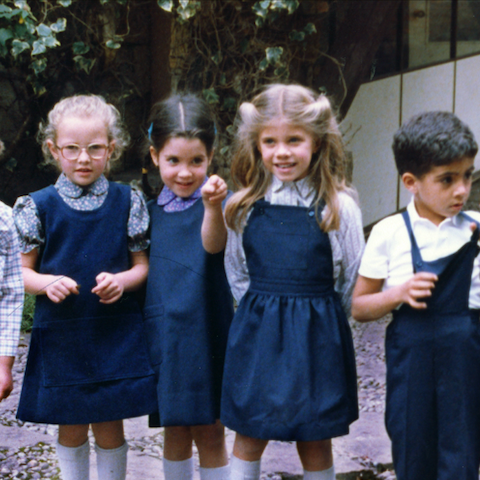 Colegio Los Nogales was born of the need to offer a comprehensive, high-quality Colombian education that was consistent with the country's needs. For this reason, it was conceived as a coeducational, bilingual school that would develop an awareness among its students of being Colombian within a global context. The Colegio Los Nogales Corporation was founded on July 14, 1982 as a private, non-profit entity. It began with kindergarten, transition, first and second grades, with a maximum of 20 students per class and three classrooms per grade. That first year, there were 147 students and a staff of 26 people, including teachers, directors and administrators.
In 1984, the Secretary of Education approved the Preschool; in 1986, it approved the Elementary School, and in 1990 the Middle School. In 1989, construction began on the school's permanent campus on a 17.5-acre lot that had been purchased two years earlier. The first stage of the project consisted of a classroom building, the gymnasium and the foundation of the administration and preschool buildings. In August 1990 the school moved to the new campus. In 1992, the school graduated its first class of Nogales students.
Today, Colegio Los Nogales is a private, non-profit, Calendar B, co-educational, bilingual Spanish-English educational organization with a third language (French or Portuguese) requirement. Colegio Los Nogales is Colombian with a global perspective and is open to diversity in all forms, offering courses from Prekindergarten through 12th grade. For nearly 40 years, the school has been a leader in Colombia in offering a high-quality education. Discipline, hard work, teamwork, as well as the values of honesty, responsibility and respect, guide our work each day, and have placed the school in a privileged position with very positive results in academics, sports, the arts and in the development of values.
Currently, Colegio Los Nogales is listed as the top school in Colombia in the Col-Sapiens ranking and as one of the top according to the Saber 11 standardized tests.
While Colegio Los Nogales is a Colombian school, it aims to provide students with an international environment, to grow with a broad, global vision and to become agents of change not only within Colombia, but also for the world. Today, more than 10% of teachers come from abroad and nearly 20% of students choose universities outside of Colombia. Colegio Los Nogales offers international Advanced Placement (AP) curriculum from the College Board to high school students, and it is a member of Round Square, a network of schools from 250 countries around the world that provides an opportunity to create international experiences inside and outside of Colombia.
The school is also a member of the Unión de Colegios Internacionales (UNCOLI), an association of international schools in Bogota, and it has accreditations from the New England Association of Schools and Colleges (NEASC) and the Council of International Schools (CIS).
The school was also selected as an Ashoka Changemaker School for providing an environment that allows students to grow as changemakers, with the skills and confidence to change the world.
Values education is a priority at Colegio Los Nogales. The school works with principles that develop values related to the pursuit of personal excellence and ethics based on the moral and intellectual growth of the community.
According to these principles, anyone who seeks to develop these values should be known, first and foremost, for his or her honesty in all actions in life. Additionally, those who seek excellence must show respect for themselves and others. They must also act responsibly, meaning that they are aware of their obligations to themselves, to others, and to their surroundings.
Students who seek excellence and internalize the three values described must be autonomous in their thinking and in their actions: they will be known for their spirit of self-improvement and will see in their relationships with others—and within their own work—clear opportunities for personal fulfillment. All of these facets contribute to personal and professional ethics.
Colegio Los Nogales students, above all, must be supportive of one another and accept the differences that exist among all human beings. Therefore, all levels of the Los Nogales community are committed to a policy of non-discrimination based on race, religion, political beliefs, gender, nationality, socio-economic level, age, disability, marital status, and other individual conditions.
The school has implemented a comprehensive curriculum for character education (FINES) and it also seeks to live these values through its daily activities.
Our Houses: Eudikia, Politeia and Filia
As part of its work on values education, the school is organized into communities based on the British House System to emphasize leadership, loyalty, and teamwork. Each of our students becomes a member of one of three Houses that represent the school's main values: Eudikia, honesty; Politeia, responsibility; and Filia, respect. This House is assigned to a student when they are enrolled in Los Nogales.
Each House has two captains from the Senior class who have been outstanding during their academic careers and have distinguished themselves through their leadership. Each year, the captains organize sports, artistic and academic competitions among the Houses. The Houses are an opportunity for students throughout the school to learn together and put into practice Colegio Los Nogales' three core values.