Social Service is the section of the FINES curriculum that seeks to create a culture of community service, based on thinking about others, feeling for others and doing for others.
This objective defines the planning for the activities that are held, seeking to develop skills that give meaning to the service and a vocation for service before the social service activity, to then translate these processes into concrete actions that build our community, society and country, supporting the school's value proposition: To Be, To Serve and To Transform.
This department currently develops three types of programs, each with its own activities and projects, promoting social sensitivity, social responsibility and social identity as curricular objectives, helping those who participate in the programs to develop self-awareness, awareness of others and awareness of their surroundings through self-knowledge, self-management, self-regulation, relationships with others, context reading (guidelines for the FINES curriculum).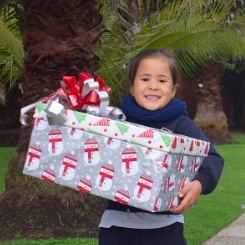 Community programs refer to all activities that involve different members of the community, not necessarily students.
Traveling Symphony: Through this project, developed in conjunction with the Music Department, we travel with the school's symphony to rural areas, bringing the joy of music to the countryside.
Building Dreams: This project is conducted with the Human Resources Department, making architectural improvements to the houses of some school Maintenance employees.
Donations: Cash and in-kind donations that we receive and use to create student-led programs that serve the target populations from our institutional partners and/or foundations.
Boxes of Love: Christmas gift campaign, during which approximately 1,000 gifts are collected and delivered, with the help of parents, employees and students.
Alumni Who Serve: Projects proposed by alumni interested in promoting social service that are completed based on time available and proposals submitted.
Optional programs include all activities that are suggested by students, promoting volunteerism and social leadership.
Camp Nogalitos: This is a program created and led by Colegio Los Nogales students in which children of school employees are taught basic English skills in a summer camp format.
Student Volunteers: This is an opportunity for students from 8th grade on to engage in different volunteer activities. They sign up for a one-year period, participating in the different programs that are offered and proposing other volunteer service activities.
Social Laboratory: In this program, students and teachers propose social service projects that are developed and put into practice.
Leadership Activity: Seniors register for this program to participate in different activities throughout their last year at school, promoting a culture of service at school.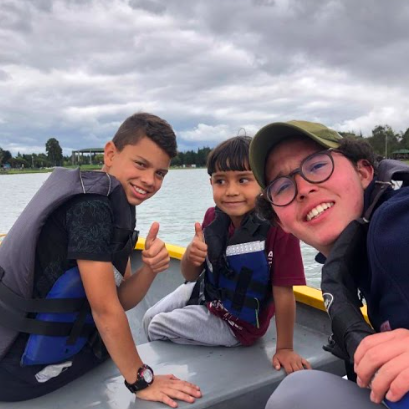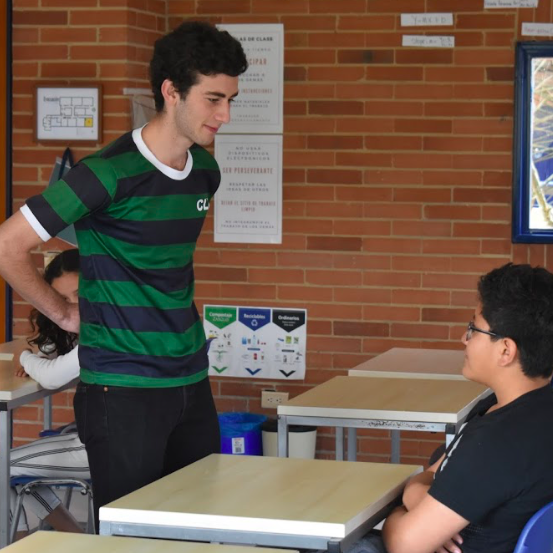 Graduation requirement programs

The graduation requirement programs include all activities that are implemented in each grade and are part of an educational process that is planned and designed according to students' ages and schooling processes. These activities include:
Service Days
Retreats
Social Service
Throughout the school year, in each grade and by section, the students participate in class retreats (Elementary, Middle and High School) and days of service (Preschool, Elementary and Middle School) or social service projects (High School).
What starts as a day of service in Preschool ends in High School with a one-year social service experience and other activities in which students serve as volunteers.
For Preschool and Elementary School, the retreats and days of service are coordinated in such a way that, based on their educational focus, students work on relating with others at a social level (days of service) and see how this translates into a relationship with the people they see on a day-to-day basis (retreats), developing a sensitive outlook towards those who surround them in life and those who live around the world.
In High School, through the different social service programs, students can develop an ongoing project through their social service activity.
The activities for each grade are defined by their educational focus or motto, which allows students to delve into and develop their objectives.
Section

Grade

Educational Focus

Motto

Goals 

Preschool

PK

To serve is to see you

When I started school I discovered new treasures for my life: people 
Who are my new treasures?

K

To serve is to hug you

While I'm traveling with you, you fill my life suitcase with wonderful things.
Who are my travel companions?

1st

To serve is to greet you

I am part of a walnut tree that grows stronger when we all recognize each other.
Who is part of the walnut tree along with me?
Section

Grade

Educational Focus

Motto

Goals

Elementary School

2nd

To serve is to love

I understand that when I approach you, there is a big difference if I do things from the heart. Now I look at you with my heart, I live with you in my heart and I thank you from my heart.

3rd

To serve is to give

I understand that I can give you what I know, what I have and what I am.

4th

To serve is to share

I understand that sharing is giving, but also receiving, and that together we are happier.

5th

To serve is to care

I understand that I can take care of you, that I must take care of myself and that together we must take care of each other.

Middle School

6th

To serve is to receive

I decide to value what others give me and to learn to receive.

7th

To serve is to give happiness

I decide to be part of other people's happiness and let this be part of my happiness.

8th

To serve is to understand

I decide to understand that you are a different person from me and that together we can build

9th

To service is to include

I decide to relate to you by valuing our differences.

High school

10th 11th 12th

To serve is to think, feel and do for others

To be, to serve and to transform.