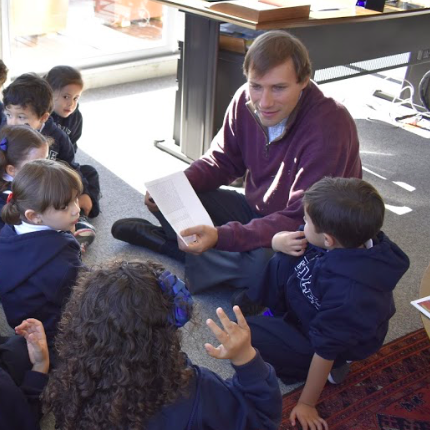 Head of School – Camilo Camargo
From the time that I started my undergraduate degree in Biology and Environmental Studies and graduate studies in Conservation Biology at the University of Pennsylvania, I was certain that I wanted to return to Colombia when I graduated to repay my country for everything it had given me, and to contribute to building a better society for all. Education was the way that I saw that I could best contribute, since I had been concerned about inequality from an early age, and it is no secret that improving the quality of education is the path to success for countries to develop.
With this idea in mind, and given the knowledge and passion that I had and still have for the environment, when I returned to Colombia I created a non-profit foundation focused on reconnecting children and young people with the land while increasing environmental responsibility. Through workshops, outdoor excursions and environmental education programs, we were able to bring children and young people closer to nature, creating important connections and an individual commitment to the planet.
At the same time, I approached Colegio Los Nogales, an institution that I had always admired for its academic and personal excellence. The school offered me the great opportunity to teach Biology for seventh and eighth grades, and then to be the Hiking Director, a position that allowed me to show students the wonderful country they live in and raise their awareness about their social reality. During those years when I spent so much time with students, I learned how our responsibility as educators was not focused on helping students memorize their textbooks, but rather to help students to know themselves better, to access knowledge critically and to build their own understanding of the world with their knowledge. This was when I was able to see more clearly that education had captured me forever. After 10 years as a teacher and outdoor educator, I decided to expand my knowledge and do bigger things for education. So I went to pursue a Master's in Education at Stanford University.
Again, I had a clear idea that I would return to Colombia and continue to contribute as much as I could to my country and the world to close the education gap.
I returned home again, and this time I took on a new challenge: Vice-Rector of Colegio Los Nogales. I spent eight years in this position, learning, from a broader perspective of the school, that a comprehensive education is essential since it is what truly nourishes the mind and helps to educate the whole being. I understood that art, music and sports are just as important as science, language, mathematics and technology. And if we don't feed our souls, and don't learn to serve others, it will be impossible for us to transform the world.
I have now been Head of School for three years, and have been involved in the school for more than 20 years, during which I have seen, along with students, parents, alumni, teachers and administrators, how personal effort, ethics and values are the true way to enhance our strengths and, ultimately, find the best version of ourselves to be agents of change in our society.  
But my responsibility as an educator goes beyond Colegio Los Nogales. To have greater reach in my commitment to democratizing education and raising quality standards, I actively participate in several different organizations at the national and international level. I am currently part of the governing boards of Alianza Educativa, an organization that manages eleven public schools, affecting more than 12,000 students in Bogotá; of Uncoli, an organization that brings together well-regarded international schools in Bogotá; and of Global Connections, a network that encourages school leaders around the world to develop global awareness within their educational community. I have also served as a consultant in the development of the teaching evaluation instrument at the national level for the ICFES and a reviewer of national tests in the areas of natural sciences, biology and environmental biology; I am also a member of the team of educators selected by the CIS (Council of International Schools) in accreditation processes in different schools in the United States, Mexico, Uruguay and Canada.
During this time, we have made several significant achievements at Colegio Los Nogales. We are an international school that has been consistently accredited by the CIS/ NEASC; different national rankings recognize us as one of the best schools in Colombia; we are classified as a Transforming School by the Ashoka "Changemakers" program; we offer the College Board's Advanced Placement international curriculum; thanks to our membership in the Round Square network of schools, our students have access to more than 200 schools around the world, among many other successes. And we're going for more. 
Welcome to Colegio Los Nogales, a very special place where we learn to be, to serve and to transform.